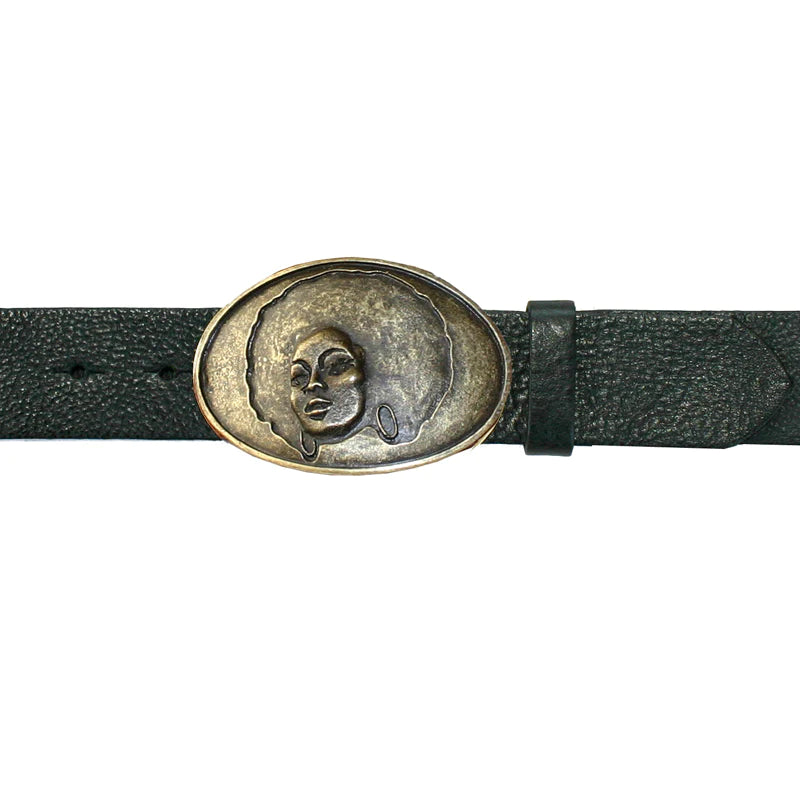 Kim just about DIED when she discovered this vintage Afro Lady buckle!  Her friend's dad bought this decades ago at a flea market in Los Angeles.  And flash forward to 2020, it was found again at his shop!  Kim brought it back and we LOVE her!  It was originally a set of three black ladies, but this is the only one to survive.  We love her afro, and we love her awesome hoop earrings.  This type of sculpure is called "bas relief."  It's when a portrait or subject is carved into a narrow recessed space, to look 3D.  One of the coolest finds Kim's ever made!  Always made in the USA with impeccable craftsmanship.   Regarding sizing:  each belt has 3 holes spaced 1" apart, the sizing below is the measurement to the middle hole (allowing for 1" adjustment on either side)

Sizing for HIP BELT:  XS is 32", Small is 34", Medium is 36", Large is 38" 

Sizing for WAIST BELT:  XS is 27", Small is 29", Medium is 31", Large is 33" 
Always made in the USA.