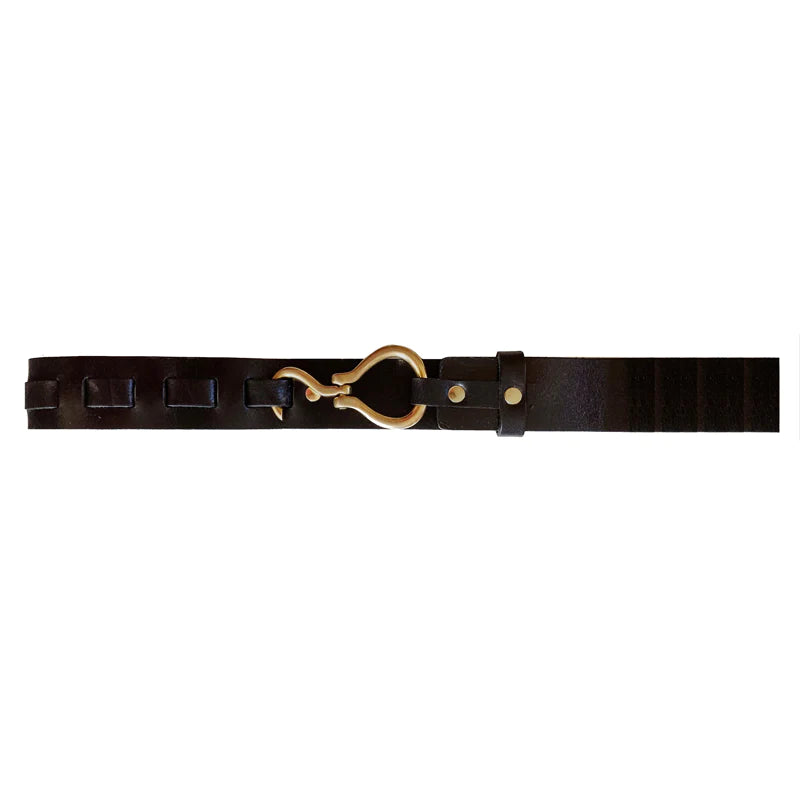 We LOVE this Hook Belt!  It's adjustable!  You drop the hook though a leather loop, creating a great look -- a look that is edgy, utilitarian and just plain awesome!  A great piece of jewelry for your pants, high-waist looks, skirts, sweaters and dresses.  There are four leather loops spaced 1-3/4" apart which allows you to wear the Hook Belt low or high.   Shown here in a dark black belt-weight leather that has a bit of glossy sheen and a bit of texture, too.   Strap is 1-1/2" wide.  Regarding sizing:  each belt has 4 loops to drop the hook into  spaced 1-3/4"" apart.  The sizing below is the measurement to the first leather loop...so you will want to buy your correct size by sizing to the first loop to wear with your pants.  Since there are an additional three loops, you have room to make this belt smaller (but not larger).   Made with impeccable craftsmanship, always in the USA.  For both men & women - although men usually just wear with jeans.  ha!

Sizing to the first loop:  XS is 32", Small is 34", Medium is 36", Large is 38"
Note:  If we don't have your size in stock, reach out and we will make one for you!  We also make custom/special sizes.
Always proudly made in the USA.